KKE: We stay strong - We do not stay silent! The demands of hospital doctors to protect the health of the people must be satisfied now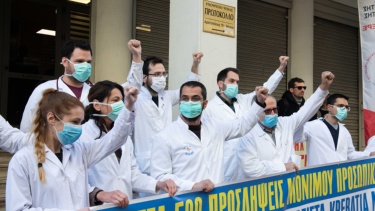 KKE party organizations all over the country, with banners hanging out of hospitals and in public places, distributing material in workplaces and in every other possible way, stand by hospital doctors, requesting immediate measures to strengthen public Health (See photos and video of their mobilization outside the Ministry of Health on 19/3), demanding, amongst other things, the immediate provision of the necessary personal protective equipment, immediate mass recruitment of doctors and healthcare personnel, the opening of all ICU beds and requisition of private Health sector infrastructure.
At the same time, the ND government imposed a "restriction on public movement" from 23/3 in the morning.  The GS of the CC of the KKE, Dimitris Koutsoumpas, made the following statement on the new government measures:
"The protection of public health is mainly ensured by preventive measures, first and foremost in large workplaces, and by the decisive strengthening of the public health system. This is also proved by the experience from other countries, such as Italy.
Under no circumstances should individual responsibility be blamed for state deficiencies or the pandemic outbreak be exclusively attributed to individual behaviors, so that major state deficiencies remain unaffected.
From this point of view, the minimum and obvious action, which should have already been taken, is the requisition of private health units and their integration into state planning, the immediate supply of hospitals with all necessary means required by the healthcare personnel. To open all ICUs and recruit the necessary healthcare pesonnel. To take measures to avoid congestion and provide the necessary protection measures in workplaces, supermarkets, pharmacies, hospitals, means of transport, etc., where the virus can be easily spread.
We stay strong. We do not stay silent! "
23/3/2020